Chef Spotlight Archives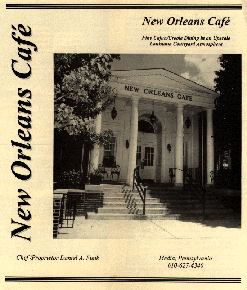 New Orleans Cafe', --the Restaurant
The New Orleans style of cooking is an interesting blend of the down-home Louisiana Cajun cooking, and the more sophisticated French Creole cooking method. Chef Dan Funk has mastered the art of Cajun/Creole cuisine, and has established a highly respected reputation among his peers and customers for his culinary talents.
At the New Orleans Cafe', each entree is fresh-made and individually prepared by Chef Funk and his highly qualified cooking staff. The New Orleans Cafe' standards are the highest and only the freshest seafood and certified dry-aged Angus Beef is served.
The New Orleans Cafe' seats 200 including formal and casual dining rooms, and an outdoor courtyard dining area. There is a full open-air bar featuring and extensive wine list. Festive live music is featured on weekend nights. The New Orleans Cafe' is truly a dining experience not to be missed.
an "exceptional restaurant of Pennsylvania"
-- Gourmet Magazine, May 2000
"Unforgettable Cajun and Creole dishes"
-- John Bull, The Philadelphia Inquirer
Chef Dan Funk, A Hometown Success Story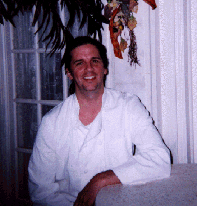 Chef/Proprietor Daniel A. Funk

Dan Funk, Chef/Proprietor of The New Orleans Cafe', grew up on nearby Brookhaven, PA. As a teenager, glimpses of his culinary genius began to emerge as he created special dishes for his family and friends. While attending college at West Chester University, he worked part time at "Macjons" a small Cajun restaurant in West Chester, PA. There he apprenticed under John DeLuca, a chef who had studied under world-renowned Cajun chef, Paul Prudhomme, owner of "K Paul's" in New Orleans, Louisiana.

Funk's interest in cooking continued to grow and in January 1988 he opened his first restaurant, the "Chef's Commissary" in Ridley Park. About a year later, he began to specialize in Cajun/Creole cooking and renamed the restaurant the "New Orleans Cafe'." As NOC grew in popularity, Funk moved to Eddystone where he created his fabulous Cajun/Creole dishes for over five years. The NOC has now grown into the current Media location, and is serving over 2000 dining customers a week. In the words of Chef Dan Funk, "I am very pleased with the response to our new location, and look forward to being an integral part of the renaissance of Media, serving our patrons the finest Cajun/Creole cuisine in the Delaware Valley."

Pan Seared Elk Chop
4-8 oz. Elk Chops
2 TBS Peanut Oil
1/2 cup Chicken Stock
2 TBS Cajun Blend
1 Tsp Hot Sauce
1 Cup Heavy Cream
1/4 Cup Diced Tasso
2 oz. Brandy
12 Long Island Blue Point Oysters
Heat peanut oil in cast iron skillet, coat Elk Chops with Cajun Blend, place gently in hot oil with diced Tasso, sear chops on each side for two minutes.
Flame with Brandy add chicken stock, heavy cream, hot sauce and Cajun Blend to taste.
Bring to a simmer, add Oysters just before serving with sweet potato mash.
---
New Orleans Cafe
is located at:

1 West State Street
Media, PA 19063
Phone: (610) 627-4393