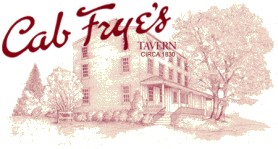 Cab Frye's Tavern
Tucked away in the heart of Berks county Cab Frye's Tavern brings to the Upper Perkiomen Valley an understated elegance with its fine dining Swiss Continental cuisine. Built in 1830, this three story brick building is a hidden treasure with impressive food and spirits as well as a relaxed and laidback atmosphere. Edward Galgon Jr. purchased the restaurant and surrounding property in 1993 and has taken something that was great and made it even better. Galgon has added a tented garden patio and Victorian Bed and Breakfast to the premise. Cab Frye's is renowned for its seasonal fare of native game, fowl, fresh seafood, and wild mushroom specialties as well as local produce.
From the exterior one falls in love with the expansive gardens filled with collections of flowers, herbs, and other vegetation. Red geraniums fill the flower boxes and surrounding flower pots along the walkway to both the outside dinning patio and the front entrance. Once inside, Cab Frye's is filled with old world charm. The four quaint dining rooms offer guests an array of different experiences. The bar area is the oldest section of the restaurant and is filled with various antiques. It is perfect for those seeking a quiet evening alone. The other three dinning rooms are filled with charming décor and offer just the right amount of privacy. The grate room's central fixture is the fire place which in the winter months is a favorite of regular patrons. In the summer months the mantle serves as a showcase for one of Julie Lonacres famous paintings. Fresh flowers can be seen adorning all the tables and the crisp linens are both green and white to match the décor.

Serene Garden Patio
~ When one visits Historic Cab Frye's
They are assured the highest quality food and service, the ambiance and charm are but an added bonus. As John V.R. Bull stated in the Philadelphia Inquire Chef Galgons "culinary magic is on magnificent display in his cozy restaurant. ~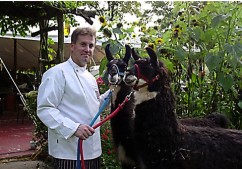 Edward and Llamas Oris and Peppercorn at garden patio!
Chef ~ Owner Edward Galgon Jr.
Edward hails from the greater Lehigh Valley area and has had years of experience in French and Belgian kitchens in Newport, RI, as well as numerous years as an executive chef at the Ballietsville Inn and Berkleigh Country Club. He can most recently be seen on PBS as a celebrity guest chef where he surrendered his infamous Crab Cake recipe. Edwards's recipes have been published in numerous magazines, books, and newspaper periodicals over the years. As a member of the Chaine des Rotisseurs since 1987 he is proud to be on officer for the Lehigh Valley Chapter serving as Vice Conseiller Culinaire for the past several years. When not tending to his busy schedule Edward enjoys lending his talents to events, competitions, and charities in the surrounding area.Chef Galgon also like to relax by spending time with his two llamas Oris and Peppercorn as seen above. Edwards dream was to own and operate his own fine dining restaurant with great care and consideration he has turned Cab Frye's Tavern into a destination point.
Historic Cab Frye's is located in Palm Pennsylvania just a short drive from Allentown. Located on Rt 29 from Allentown take Rt. 100 south to Rt. 29 South. Rt 309 South to Cedar Crest Blvd. From Quakertown, take Rt. 663 South to Rt 29 North. The Tavern serves lunch Wednesday thru Friday 11:30 until 2:00. Dinner hours are Monday thru Saturday 4:00p.m. -10:00p.m. Seasonal brunch hours on Sunday are accompanied with classical guitar entertainment.
The Bed and Breakfast is country Victorian complete with a whirlpool spa and private balcony. There is a kitchen and bath as well as two TV/VCR's and a queen size bed. Historic Cab Frye's can be reached for reservations or other inquiries at 215-679-9935, or visit us on the web at www.cabfryes.com.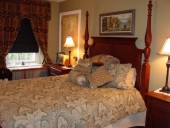 Victorian Bed and Breakfast suite
~ Recipe ~
Sirloin with Marrow and Bordelaise Sauce
Serves 2
2 10 oz. George Wells Dry Aged Center Cut Sirloin Steaks
Salt and freshly ground black pepper
2 Tablespoons unsalted Butter
1 Tablespoon finely minced shallots
2 Cups red Bordeaux wine
3 Sprigs fresh Thyme
2 Cups of Demiglace
1/2 Pound Fresh Beef Marrow
Method
Sprinkle the steaks with salt and pepper. Heat 1 tablespoon butter in a skillet over high heat, and when the butter foam starts to subside, add the steaks. Cook until medium rare, turning once, about 10 minutes in total. Remove from the pan and keep warm in a 150 degree oven.
Pour the grease out of the pan, lower the heat to low, and add the remaining butter. Saute the shallots until lightly brown, about 5 minutes, and then add the wine and thyme. Raise the heat to high and reduce by ½. Adjust seasoning.
Slice the marrow into 3/4 - inch slices. When the sauce is reduced, lower the heat to mere simmer and poach the marrow slices for 10 minutes.
To serve place the marrow slices on top of the meat and pour the sauce over. Garnish the plate with sautéed baby vegetables.